Quartz vs Granite - Pros and Cons
by Dhruv Kar
Dec 02, 2017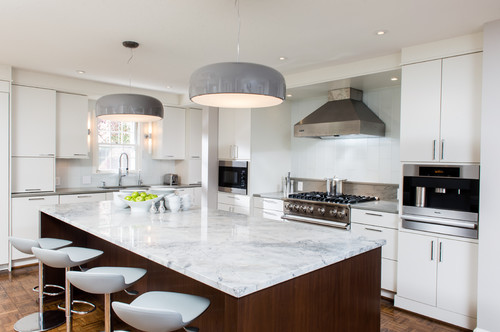 Looking for granite or quartz countertops, but don't know which to choose? Are you curious if quartz is a better choice than granite? Here we explain the differences between granite and quartz and how they can be used in different applications.
Quartz
Many homeowners are opting for this highly durable, contemporary and more stain resistant alternative to Granite.
Pros
Durability: Quartz is one the hardest materials on the planet. This means it has a higher scratch resistance than granite and won't chip or crack easily. Great for applying to different surfaces including floors and stairs.
Upscale Conformity: Contemporary and upscale attractiveness. Because it is considered engineered stone, colors are uniform from the showroom to what you see after installation. It has many color options and patterns.
Stain and Contaminant Resistance: Quartz is more stain resistant because the surfacing is non-porous, which also means that you do not need to worry about bacteria, especially in crucial places like your kitchen or bathroom. Here, cleanliness is a clear pro over its natural counterparts.
Low Maintenance: Because it is non-porous and so durable, no maintenance is required.
Flexibility: It's hard, but more flexible to install than granite.
Cons
Discoloration: Quartz can discolor overtime when exposed to sunlight. This material is not recommended for any rooms with direct sunlight nor outdoors.
Number of Seams: Quartz does have more and more seams will show in products with less patterns and in solid colors. t's more possible to hide seams when it's manufactured to match.
Not Heat Resistant: Quartz is not as resistant to heat as granite, so caution will have to be used with hot pots and pans in the kitchen or hot hair tools in the bathroom.
Not the 'Real Thing': Some feel that nothing beats the real thing. A stone that is not manufactured, but mined from the earth.
Best Uses for Quartz In addition to countertops in kitchens and bathrooms, Quartz is often used to cover walls, as roofing tiles, flooring and stair steps. It's becoming much more popular in kitchens due to its durability. Same for dining and coffee tables. Quartz is also used for window sills and door pockets. Very commonly used in commercial construction because of its durability and attractiveness.
Granite
Granite material is 100% natural! It's the most popular choice among architects, designers, homeowners and home buyers for many reasons.
Pros
Sustainable: Granite countertops can last a lifetime. They contains no harmful chemicals nor emit harmful radiation of gasses. Thumbs up from the green movement! Important to note here, Quartz does not emit significant amounts of radon or volatile organic compounds. Granite is natural vs. engineered and gets higher marks here.
Heat Resistant: Granite countertops will not melt, blister, nor change color when exposed to heat. Unlike Quartz, Granite is one of the most heat-resistant countertops on the market. If you take a hot pan out of the oven, you can place it directly on your countertop surface without any harm!
Scratch Resistant: Granite scores a seven on Moh's scale of hardness. This means that very few minerals will scratch it. You can cut on it would dull your knife. But means it's mishap friendly!
Less Unsightly Seams: In a typical kitchen, granite countertops will need to have 2-3 seams vs. at least twice as many in traditional quartz. Large islands can typically be done without seams. If you have an L or U shaped layout, expect seams where the countertops angle in a different direction. Note: The good news, like in Quartz, fabricators will mix custom color epoxy to adhere the seams together which does a great job at disguising them.
Cons
Not Consistent: The uniqueness of granite can be a con, since appearance will not uniform, may not offer color consistency, and the sample in the showroom will not be exactly what you install in your home.
Maintenance: Granite requires maintenance as it needs to be sealed since it's porous unlike its non-porous counterpart quartz. Which means it can stain or harbor bacteria over time.
Can Break: It is a natural rock and can break or chip if subjected to heavy abuse.
Cost: Cost is generally a little higher than Quartz.
Best Uses for Granite
Granite is the #1 chosen kitchen countertops and islands in homes across America. It not only improves the value of your home as does Quartz, it's easy to clean and heat and water resistant. Bath vanity tops are ideal because of granite's resistance to water and mold. Backsplashes are also popular creating an excellent barrier between wall and water and grease. Granite is also popular in tabletops or desktops and fireplace mantles.